Mast Climbing Work Platforms
Alimak's range of mast climbing work platforms are ideal for facade work when a project presents logistical challenges such as excessive heights. Efficient at even the lowest levels, mast climbing work platforms provide the ideal vertical access solution for facade work such as bricking, window installation, and coating. The Alimak MC 450 and MC 650 ranges allow for the efficient transportation of passengers and materials to even the highest levels of a building in a single journey for enhanced productivity on-site.  
Request a Quote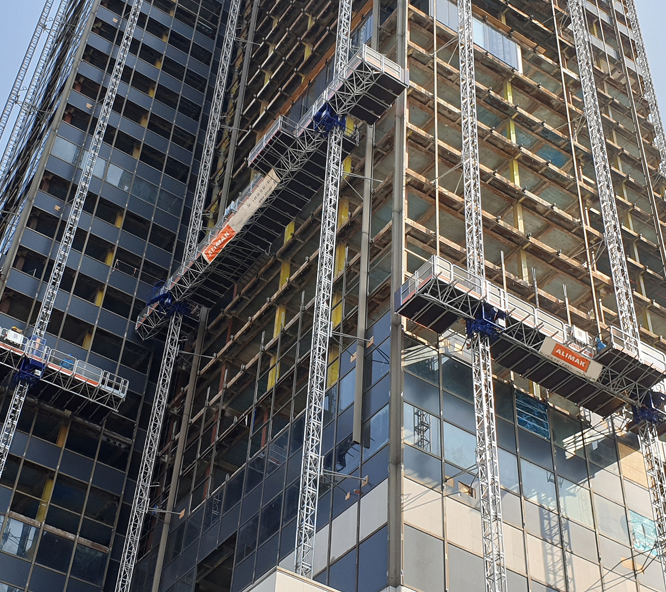 ALIMAK MAST CLIMBING WORK PLATFORM RANGES
The range of Alimak mast climbing platforms consists of the MC 450 and the MC 650. The MC 450 provides a robust and reliable vertical access solution with payloads of up to 5,500 kg whilst the MC 650 features a 41.8 metre length in a twin mast configuration and can be used on corners and curves for true versatility.
Why choose an Alimak mast climbing work platform?
Increased productivity
Meet project requirements
MASTS COMPATIBLE WITH HOISTS AND TRANSPORT PLATFORMS
GREATER VISIBILITY & ERGONOMICS
Get in touch for more information or a quote
Need help selecting the right product for an upcoming project? Get in touch with our product experts for information on the range of vertical access solutions available and a quotation to meet the needs of your project.
Request a Quote
Find a local representative
Present across six continents, Alimak utilises a global network to deliver vertical access solutions for a wide range of applications on construction and industrial sites around the world. Get in touch to find a local representative from Alimak's global network.
Search Directory