Offshore and marine elevators
The range of offshore and marine elevators available from Alimak are engineered to overcome the unique set of challenges presented by offshore environments. Alimak offshore elevators and marine elevators feature a durable design to withstand harsh offshore conditions including extreme weather conditions and the roll and pitch of the ocean. 
Alimak's range of vertical access solutions are designed for high-performance on marine vessels and offshore oil and gas facilities across a range of applications. Available in a diverse range of car sizes, payload capacities and explosion proof elevator models, Alimak's offshore product range can be modified to meet the specific vertical access requirements of an application or project.  
Request a Quote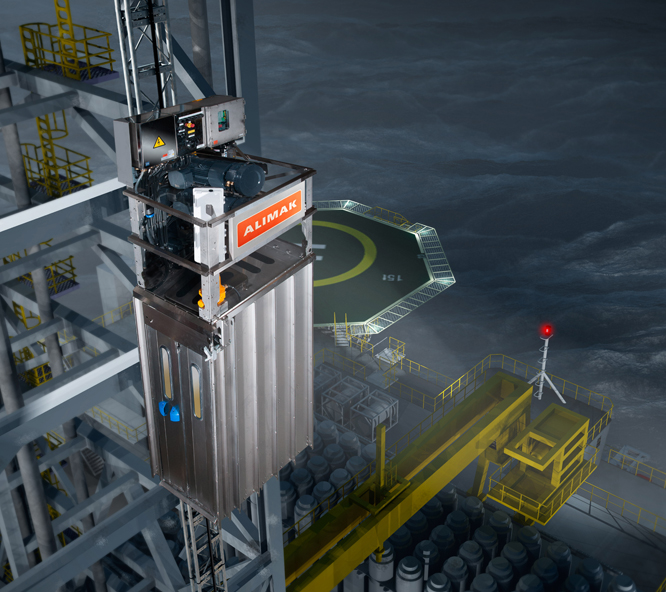 ALIMAK OFFSHORE ELEVATORS AND MARINE ELEVATORS
Alimak offshore and marine elevators efficiently transport passengers and freight to critical elevated points on offshore vessels.
Why choose Alimak vertical access solution?
INDUSTRY COMPLIANT 
ROBUST MODULAR DESIGN
CAPACITIES UP TO 10,000 KG
EXPLOSION PROOF AVAILABLE
Get in touch for more information or a quote
Need help selecting the right product for an upcoming project? Get in touch with our product experts for information on the range of vertical access solutions available and a quotation to meet the needs of your project.
Request a Quote
Find a local representative
Present across six continents, Alimak utilises a global network to deliver vertical access solutions for a wide range of applications on construction and industrial sites around the world. Get in touch to find a local representative from Alimak's global network.
Search Directory