Service Solutions
For Service Support
Call 1800 ALIMAK
Alimak designs and manufactures industry-leading vertical access solutions for operation across a diverse range of industries. Robust and dependable, Alimak vertical access solutions improve the efficiency and productivity of operations around the world. Owners and operators of Alimak vertical access solutions can maximise uptime, safety and maintain the flow of efficient operations to enhance overall productivity in even the most demanding applications with proactive service and support solutions.
Alimak provides industry-leading product and customer support services to the owners and operators of Alimak construction elevators and industrial elevators. With a global service network which expands over 100 countries, Alimak offers a complete range of service and support solutions including; service packages, preventative maintenance and repairs, inspections, refurbishments, genuine replacement parts, training and asset management tailored to manage the total lifecycle of Alimak equipment.
Alimak's service management is powered by Service Protocol, a web-based tool that streamlines field service management. The user-friendly tool automatically calculates and records machinery's current and prior run times to determine when it's time for maintenance. Additionally, Service Protocol provides ease of administration through automating tasks such as scheduling and invoicing. Designed by a team of service technicians, the system is accessible on any device from mobile, tablet or laptop.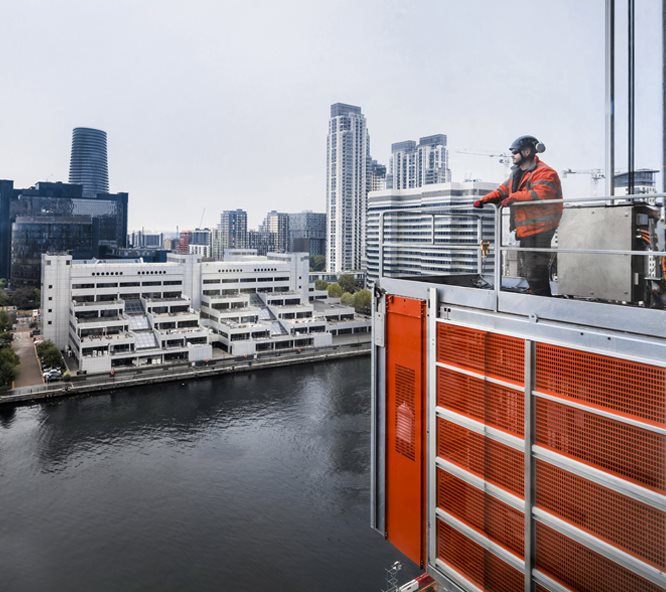 Complete Service Solutions
Alimak utilises a global network to provide comprehensive service and support solutions designed to meet the needs of Alimak owners and operators.
Service Solutions
Comprehensive range of service contracts and maintenance programs
Inspections, safety and compliance
Routine inspection programs to ensure Alimak equipment is safe and compliant
Refurbishment solutions
Restore performance with a cost-effective refurbishment or upgrade
Genuine spare parts
Genuine Alimak parts are sourced and exchanged to enhance performance and prolong operational life
Asset Management
A range of support solutions to manage the total lifecycle of the equipment
Training
Dedicated Alimak training to support the safe operation, maintenance and installation of Alimak equipment
Download the Alimak Service and Support brochure
Learn more about the comprehensive range of service and support solutions available for Alimak construction hoists, industrial elevators and mast climbing platforms.
Download

Get in touch for more information or a quote
Need help selecting the right product for an upcoming project? Get in touch with our product experts for information on the range of vertical access solutions available and a quotation to meet the needs of your project.
Request a Quote
Find a local representative
Present across six continents, Alimak utilises a global network to deliver vertical access solutions for a wide range of applications on construction and industrial sites around the world. Get in touch to find a local representative from Alimak's global network.
Search Directory