Alimak STS 300
Alimak is proud to present the new Alimak STS 300 Scaffold Transportation System. The Alimak STS 300 is designed for use with the PERI UP scaffolding system. Alimak STS 300 offers a range of features which enhance efficiency and safety in comparison to other solutions. With a crew requirement of only two people, up to 300 square metres of PERI UP scaffolding can be installed per day.
Build your STS 300
Product Overview
Alimak STS 300
Alimak STS 300 is a completely new Scaffold Transportation System concept supporting scaffolders to install and dismantle PERI UP scaffolding more efficiently and safer.
Product Category: Transport platforms and material hoists
Applications: For use with PERI UP scaffolding system
Certifications: CE-marked
Size: 0.82 m x 1.26 m x 1.86 m (W x L x H)
Capacity: 300 kg
Speed: 17 m/min.
Voltage: 230 V, 50 Hz, 1 phase + N + PE
Benefits of the Alimak STS 300
Enhanced productivity
Fast to install
Less waiting time
Short payback time
Innovative Scaffold Transportation System
Product Features
Designed for use with PERI UP scaffolding system
LOADING AND UNLOADING AT HEIGHT IS COMPLETED BY SWIVELLING THE BOX TO THE SCAFFOLD, WHILST ALWAYS SAFELY STANDING BEHIND HANDRAILS
STACKABLE BOXES FOR EASY HANDLING, STORAGE AND TRANSPORTATION
Easy and efficient to load complete scaffold sections on the ground whilst unloading at top
NO LANDINGS GATES NEEDED
EASY TO INSTALL, ONLY SPANNER AND HAMMER REQUIRED
FAST ONE-BOLT CONNECTION OF MAST AND SIMPLE TIES WITH STANDARD PERI LEDGERS
BOX WHEEL SET OPTION FOR EASY HORIZONTAL MOVEMENT OF SCAFFOLD MATERIALS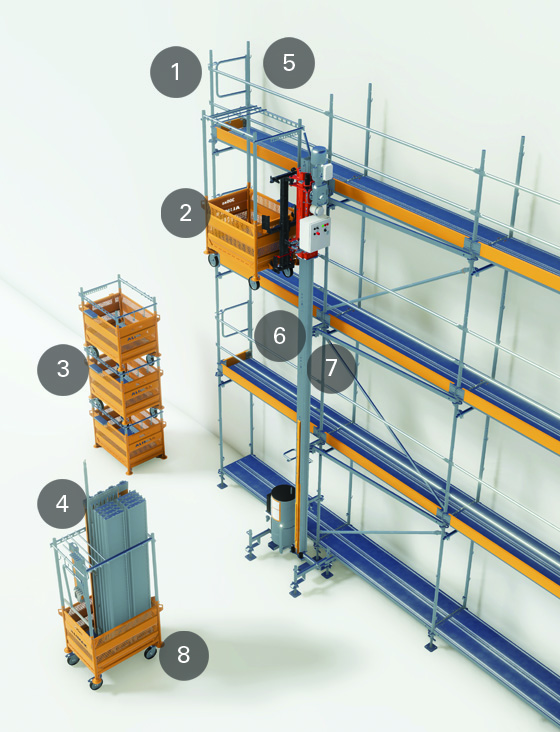 Service and Support
To order Genuine Alimak replacement parts online, for service support and training, My Alimak helps you with access to your Alimak STS 300 and insights around the clock, wherever you are. Get connected with My Alimak.
Login
Build your STS 300
Configure online
Build your Alimak STS 300 Scaffold Transportation System with your choice of height and accessories and we will return with a quote within 48 hours.
Build your STS 300