My Alimak
Say hello to the future of digitalisation
in the vertical access industry
My Alimak is a customised web-based portal developed by Alimak Group to enhance the safe and efficient use of Alimak construction products. The remote monitoring portal provides users with up-to-date information on their Alimak construction equipment.
The My Alimak portal displays a wide variety of operational information – with data collected and displayed in an easy-to-read format – along with many additional features such as an advanced force calculation tool, Bim and document libraries. Access to this data gives owners improved support of overall asset management, by anticipating necessary maintenance and repairs as required, enhancing safety, ensuring maximum product uptime, and minimising downtime due to repairs.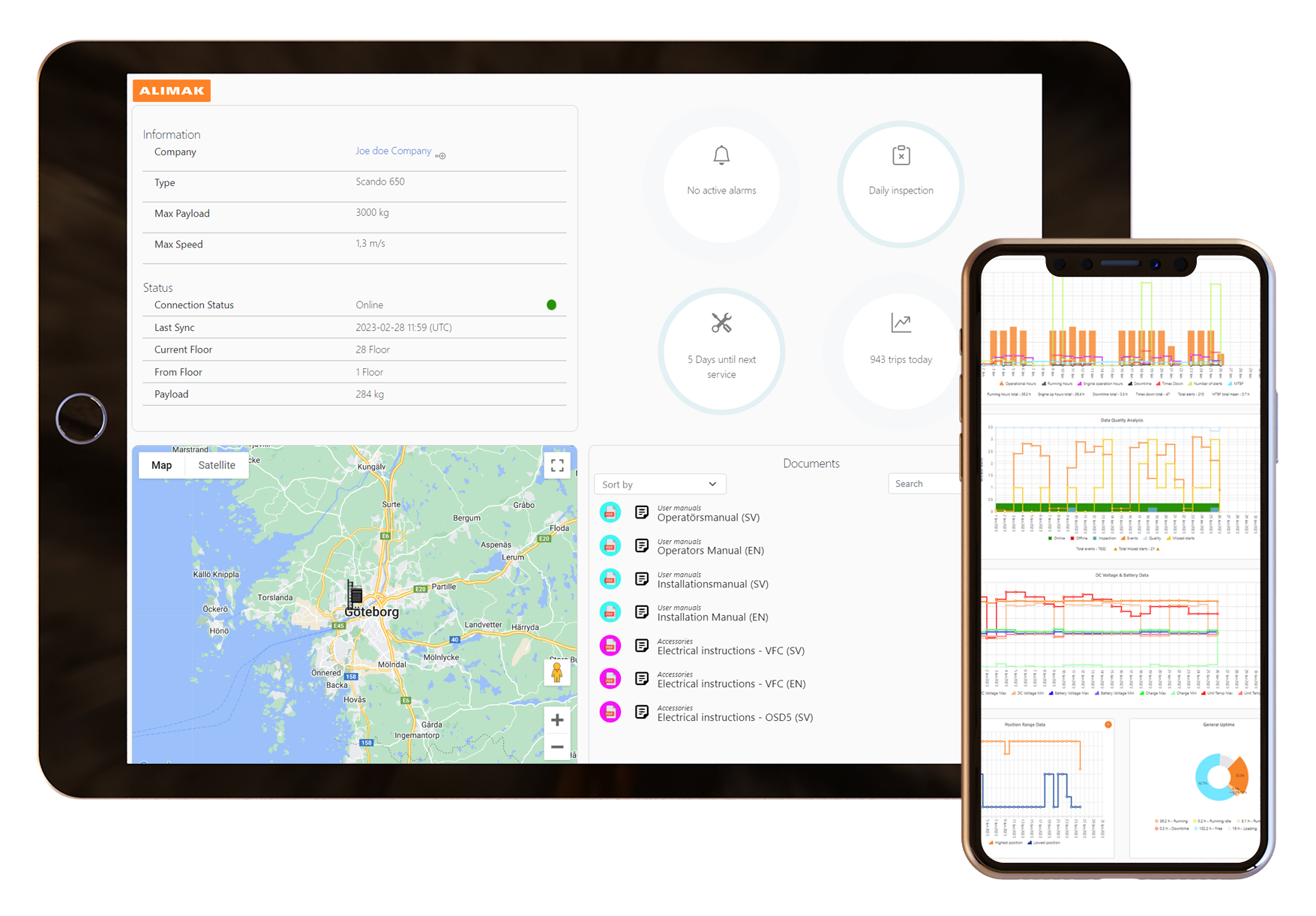 Have you thought about how to make your work at a construction site more efficient?
Features at a glance
The My Alimak portal provides the maintenance team, operators, and product owners with access to:
Information
General specifications, such as serial number, product type, performance data and temperature.
Status
View a wide variety of operational information and data of your Alimak product in real time.
Alerts
Detect up-to-date alert messages for easy remote diagnostics, keeping down-time to a minimum.
Location
Map with current positioning of all your connected Alimak products.
Documents
Access to all technical documentation, manuals and certificates for your Alimak products.
AliCalc
Advanced online tool to calculate reaction forces, saving time and enhancing safety.
Watch the video
BIM Gallery
Integrate BIM-models at the planning phase of you project to visualise and optimise your vertical transportation requirements.
Watch the video
Statistics
Analyse your hoist utilisation in an easy-to-read format and enhance construction logistics and sustainability with extended operational data.
Parts Online
Easily find and identify Alimak spare
parts online.
Watch the video
Training
Easy access to available training courses online for your Alimak product.
Support
Easy access to local technical support whenever needed.
Download the My Alimak brochure
Learn more about the My Alimak portal available for connected Alimak products.
Download

Get in touch for more information or a quote
Need help selecting the right product or service for an upcoming project? Get in touch with our experts for information on the range of vertical access solutions available for a quotation to meet the needs of your project…
Request a Quote
Find a local representative
Present across six continents, Alimak utilises a global network to deliver vertical access solutions for a wide range of applications on construction and industrial sites around the world. Get in touch to find a local representative from Alimak's global network.
Search Directory