20 Alimak construction hoists and 35 transport platforms improve safety and productivity during construction of Grand Paris Express transit lines.
The Paris Métro is one of the densest metro systems in the world, with 244 stations within the City of Paris. Grand Paris Express is a group of new rapid transit lines being built in the Île-de-France region. Four new métro lines will be built and two existing lines will be extended. A total of 200 kilometres of new track and 68 new stations will be added, serving 2 million passengers per day.
Alimak is currently involved in the construction of métro lines 14, 15, 16 and 18 with over 50 vertical access solutions for the transportation of construction workers and materials.
Alimak proposed installations of construction hoists and transport platforms without bottom frames on the ground. Alimak engineers designed steel structures to support each hoist and transport platform on the wall, without touching the bottom of the tunnel shaft. This allows the equipment to follow the construction progress of the metro tunnels in a flexible way.
The transport platforms were designed with closed cages and have a liaison bridge between the platform itself and the stair tower – which is being used by the construction workers. The project started in 2018 and is expected to continue until 2032.
HOIST DETAILS
Project: Grand Paris Express
Location: Paris, France
Application: Metro Tunnel Construction
Product category: Construction Hoists
Hoist model: Alimak Scando 450
No. of hoists: 20
Hoist car size: 1.4 x 2.4 x 2.0 m (W x L x H)
Capacity: 1,200 & 1,100 kg
Speed: 30 m/min
Lifting height: Varies between: 15 m to 50 m
PLATFORM DETAILS
Project: Grand Paris Express
Location: Paris, France
Application: Metro Tunnel Construction
Product category: Transport Platforms
Platform model: Alimak TPL 500
No. of platforms: 35
Platform size: 1.4 m x 1.6 m x 2.2 m (W x L x H)
Capacity: 500 kg
Speed: 12 m/min
Lifting height: Varies between: 15 m to 50 m
Ten Alimak mast climbing work platforms are being used during the construction of a new building block in Berlin, Germany.
The German Trade Union Confederation, Deutscher Gewerkschaftsbund (DGB) is building a new office and commercial building in the Berlin Schöneberg district.
The new office building of approximately 21,000 m² will be used by the federal board administration of the DGB. The new building elements with different heights blend together to create a distinct structure with a unified appearance.
Alimak was approached to supply an efficient vertical access solution for mounting the new façade elements and windows of the DGB building.
Anchoring of the mast towers created a challenge with reconstruction from standard anchoring to special consoles required. Alimak provided a forcible technical solution for the mounting of windows and facade with a total of ten mast climbing work platforms, from its German rental fleet. The project commenced in September 2021 and is ongoing until today.
PLATFORM DETAILS
Project: DGB – Schöneberg Office Tower
Location: Schöneberg, Berlin, Germany
Application: High-rise construction
Product category: Mast climbing work platforms
Models: Alimak MC 450 and MSHF
No. of platforms: 10
Platform sizes: 1.2–2.2 x 8.4–28.5 m (W x L)
Capacity: Up to 2,000 kg
Speed: 7–9 m/min
Lifting height: Varies between 22–49 m
Eight Alimak mast climbing work platforms have been used during renovation of the 96-metre tall tower, 160 Park View in Frankfurt. The tower consists of a first-class hotel and luxury residential apartments.
At this moment there are three twin-masted MC 450's, one single-masted MC 450 and a single-masted MSHF in use on the project. The lifting heights vary from 24 to 94 metres. Alimak provided the most suitable technical solution for dismantling and reassembling of the façade and the products are from Alimak's rental fleet in Germany.
The renovation project started in 2017 and is expected to be ready by 2023.
The MC 450 is Alimak´s medium range of mast climbing platforms boasting lengths of up to 10.2 m in a single mast configuration and up to 30.2 m in a twin mast configuration.
PLATFORM DETAILS
Project: 160 Park View
Location: Westend district, Frankfurt, Germany
Application: High-rise construction
Product category: Mast climbing work platforms
Models: Alimak MC 450 and MSHF
No. of platforms: 8
Platform sizes: 1.2–2.2 x 8–29.9 m (W x L)
Capacity: Up to 2,000 kg
Speed: 8-9.6 m/min
Lifting height: Varies between 24–94 m
The Amsterdam skyline has been enhanced by the development of two stand-out buildings situated along the IJ River and offering spectacular city views. 
The Hotel Y-Towers stands 114 metres tall and will be operated by the Maritim hotel chain. The development features 579 rooms, conference facilities, and commercial features. The 103-metre-high residential complex includes 174 apartments available. 
One of the first challenges posed by the project was to ensure that the work would be technically possible. Tower cranes are usually anchored to a building at one or two points; however, this project required four anchor points. This led to a problem cladding the building's facade with natural stone between and above these anchors. The scaffolding option offered by a previous supplier was deemed expensive and unworkable. 
Alimak was approached to provide a vertical access solution for the construction of the development consisting of four mast climbing work platforms from Alimak's rental fleet in the Netherlands.
The Alimak team has developed a well-respected reputation in the Dutch construction industry for experienced and reliable drawing, calculation, and assembly services. Alimak had to ensure the mast climbers could be assembled safely and according to the strict regulations enforced throughout the Netherlands, particularly on construction sites. 
Mast climbing work platforms are used to transport workers, equipment, and materials to and from a single point of entry. As they are limited in their operation, mast climbing work platforms are not designed to be used as construction hoists. 
As the mast climbing work platforms could not pass the crane anchors, Alimak needed to mount a mast climbing platform between each anchor. A landing gate was mounted on the building just above each anchor to ensure the platforms could be accessed safely and following regulations.
According to EN 1495 regulations, the mast climbing work platform can only be entered from one position. Alimak worked to create a step-up point for each mast climber to provide a successful access solution. 
PLATFORM DETAILS 
Project: Hotel Y-Towers
Location: Amsterdam, Netherlands
Application: High-rise construction
Product category: Mast climbing work platforms
Model: 4 x MSHF
Capacity: 1,200 kg across 4 mast climbers
Platform size: 10.3 m x 2.1 m
Speed: 7 m/min.
Lifting height: 115 m
No. of landings: 4
A large data centre located in Slough, UK, required an elevator to meet the building's unique requirements. The 'Mega-Centre' type of data centre comprises a large and complex office space with a significant IT plant volume.
An important outcome for the client was the ability to locate heavy plant on the rooftop of the building while keeping valuable office space free internally.
This client required an elevator that could reach the rooftop to transport heavy equipment to the gantry level and be impermeable to external weather conditions.
The important IT plant located on the rooftop level needs to be always accessible, so it was essential to the client that the elevator was highly reliable and remained in service with minimal downtime.
As such a custom Alimak SE-H 3200 FC elevator was installed for this complex data centre building. The elevator solution met the client's unique requirements, which featured an unusual elevator car height and weather-resistant design. The Alimak elevator provides reliable transport for personnel and IT plant and equipment weighing up to 3,200kg, from ground level to gantry with ease.
The Alimak SE-H range is renowned for its durable design for demanding industrial use. Alimak's rack and pinion technology means there is no need for a shaft, making this elevator as easy to install as it is sturdy. A unique attribute is the elevator's suitability for both indoor and outdoor applications, whilst also allowing for customisation to meet a client's most unique requirements.
Alimak's dedicated range of vertical access solutions developed for use in data centre environments is designed to operate in restricted spaces and increase productivity and enhance efficiency. Alimak's capabilities to meet these requirements further fosters our reputation as a leading vertical access supplier for data centres and warehouses.
ELEVATOR DETAILS
Location: Slough, United Kingdom
Application: Data Centre
Elevator model: Alimak SE-H 3200 FC
Capacity: 3,200kg
Elevator car size: 1.56 m x 3.9 m x 2.8 m (W x L x H)
Speed: 0.7m/s
Lifting height: 11 m
No. of landings: 4
An Alimak industrial elevator has been installed at Rookery South Energy Recovery Facility (ERF). The elevator installation was completed in Janaury 2022, with the ERF due to be fully operational by the first quarter of 2022, in a project being led by Hitachi Zosen Inova. The facility will offer a sustainable alternative to landfill by generating clean electricity from waste.
Having provided industrial elevators on three previous projects, Alimak were HZI's preferred supplier, working closely with them to produce a detailed specification to fulfil the project needs. Alimak also worked with the project architect enabling the integration of our drawings early in the design phase.
The Alimak SE 2000 FC rack and pinion elevator measures 2.60m x 1.56m, with a capacity of 2,000kg. It will travel 38.8m and will be used to transport heavy maintenance equipment and spare parts to the boiler hall.
Maintenance support, provided by Alimak Service, will be provided to Covanta, who are the plant operators.
To ensure the project kept within budget, traditional mechanically linked elevator doors were provided, instead of the new wireless communication type. This meant that Alimak's engineers had to design a stabilisation system to ensure the elevator doors and landing doors remained connected to when opening and closing. this was achieved by using a third guide (T-guide) rail, which ran the full height of the installation to allow the correct interface of the doors and maintain a safe and reliable operation.
The most efficient way to install the elevator was to install the complete car in one piece over the top of the elevator shaft. Doing this allowed the elevator to be factory tested. being shipped in one piece meant it was in a fully operational condition when installed and power energised for the first time.
ELEVATOR DETAILS
Location: Rookery South Pit, Bedfordshire, UK
Applications: Energy From Waste
Elevator type: Rack and pinion
Elevator model: ALIMAK SE 2000 FC
Capacity: 2,000 kg
Elevator car size: 2.60 m x 1.56 m (W x L)
Lifting height: 38.8 m
No. of landings: 10
A second prestigious development at South Quay Plaza in Canary Wharf has chosen Alimak products to assist with the build. This is one of the first projects in which Alimak utilised its Building Information Modelling (BIM) gallery to assist with the planning.
CONSTRUCTION HOISTS & TRANSPORT PLATFORMS
There are five Alimak construction hoists at work on the South Quay Plaza 4 development project. A twin masted Mammoth, a Scando 650 XL FC-S and a Scando 650 FC are installed in a Triplex configuration, serving 55 landings up to 190m.
Two Alimak Scando 450 FC construction hoists serve 53 floors, including two basement floors, within the core of the building. Finally, an Alimak TPL 1000 transport platform will provide access to the top two floors of the building. Alimak's experience on similar projects, including the first phases on SQP allowed us to digitally enhance the product BIM to ensure that design enhancements were validated prior to installation.
PROJECT
South Quay Plaza 4 is a Berkeley Group development and has been designed by Foster+Partners. When complete it will be 58 storeys high, incorporating both residential and retail units, as well as a communal terrace and sky garden.
ALIMAK BIM GALLERY
Alimak's BIM gallery contains 3D models with key embedded information of our construction hoists. The BIM models can be configured to the customer's needs allowing them to simulate the use of our products at the planning phase of a project.
The South Quay Plaza 4 project used the NAVIS model with Alimak BIM integrated. This meant they were able to configure the BIM models to their exact required configuration and simulate them within the specific project environment, all of which helped to achieve a 'right first time' solution.
The BIM gallery has been developed by Alimak's team in Boras, Sweden and is available on our website.
PROJECT CHALLENGES
The building is in very close proximity to London's DLR train line so there was very limited space to install the hoist. Alimak's engineers had to stay 5m away from the DLR and the hoist was not allowed to be lifted higher than the DLR bridge. During installation an exclusion zone was created by closing the site entrance and exit gates. The hoists were then carefully lifted into place.
To help ensure that Alimak's products serve the build in the most efficient way, the hoists installed externally in the Triplex configuration have been sunk into the pit by 1.5m. The result of this is that the hoist floor is level with the ground providing quicker loading and unloading times.
Part of the build requires fa ade panels to be unloaded from a lorry onto a platform on wheels. To assist with this, Alimak's engineers designed a bespoke 4.2m high gate for the Mammoth hoist (standard height is 2.8m.) These bespoke gates mean that the platform carrying the facade panels can be pushed straight onto the hoist ready to be transported to the relevant floor. The bespoke gates have a gate leaf steel extension which provides the extra height. When this is not required, the extension can be locked allowing for only the standard sized part of the gate to be opened.
HOIST DETAILS
Location: South Quay Plaza 4, London, UK
Application: High-rise building
Hoist models: x Alimak TM Mammoth 55/50, 1 x Alimak Scando 650 FC-S XL 25/50, 1 x Alimak Scando 650 FC 32/39, 2 x Alimak Scando 450 FC 17/22
Transport Platform model: 1 x Alimak TPL 1000
Capacity: 1,000 – 5,500 kg
Hoist car sizes (W x L x H): 3.0m x 5.0m x 3.0m, 2.0m x 5.0m x 2.8m, 1.5m x 3.9m x 2.3m, 1.4m x 2.2m x 2.0m
Transport Platform size: 2.4m x 1.9m x 2.4m
Speed: 24m/min – 100m/min
Lifting height: Varies between 99m – 190m
GALLERY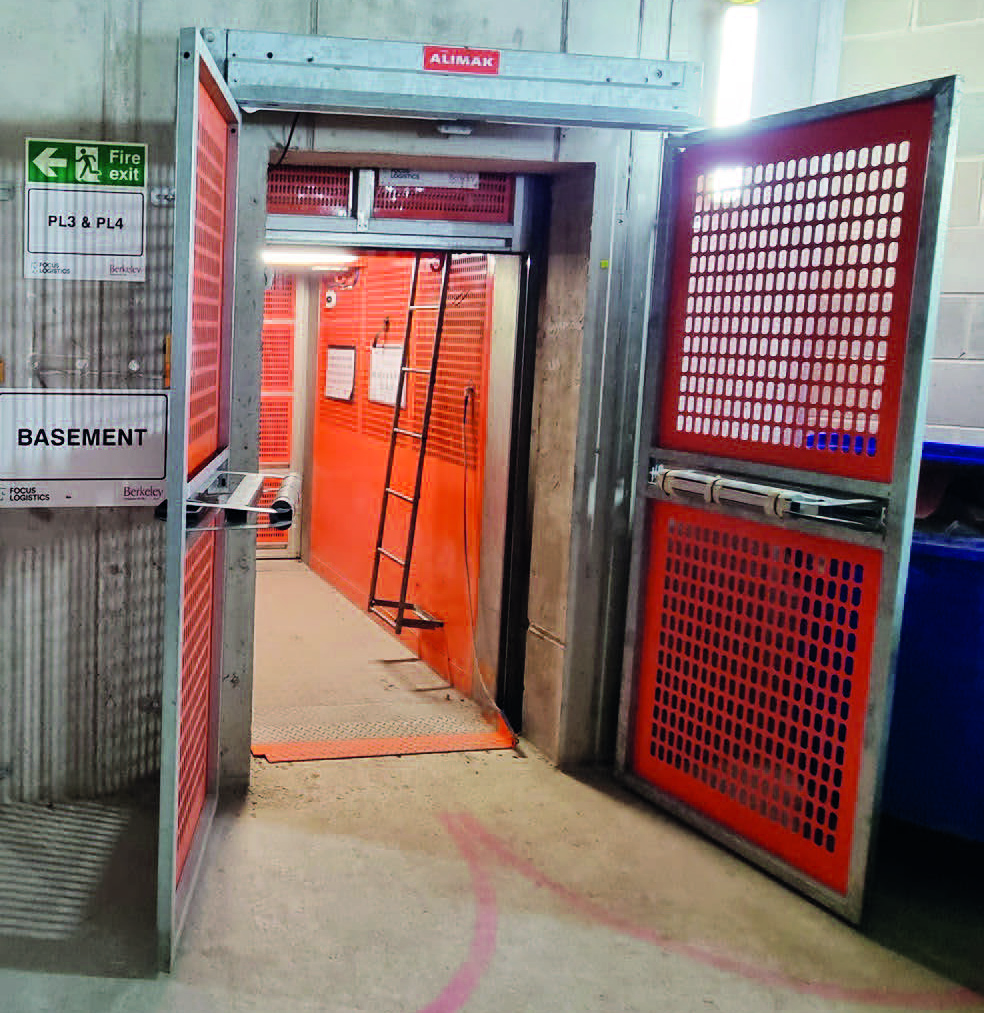 Alimak Scando 650 hoists and mast climbers provided vertical access for people and materials during the construction of the new Sara Cultural Centre in Skellefteå, Sweden. The cultural centre is one of the world's tallest timber buildings to date.
Located in the heart of central Skellefteå, in Northern Sweden, you will find one of the world's tallest wooden houses – the new Sara Cultural Centre, which will host venues for arts, performance and literature, as well as a hotel. Alimak construction hoists and mast climbing work platforms provided vertical access during the construction of the 80 metres tall timber building.
Two Alimak Scando 650 construction hoists, one on each side of the building, have been utilized on the site to transport workers and materials up and down the 20 floor building. The Swedish rental company Cramo was responsible for the delivery of the Alimak construction hoists for the project.
In addition to the Alimak construction hoists, several Alimak mast climbing work platforms have also been utilized for façade cladding and window installation. A total of 12 mast climbing work platforms were used in twin mast configuration on the project at different heights. Alimak's rental partner Bennab was responsible for the delivery of all mast climbing work platforms to Cramo for the project.
The building consists of a low-rise section of four floors and a tower section on top, which extends a further 16 floors up.
Construction started at the end of 2018 and the building opened its doors to the public in September 2021. Sara Cultural Centre will become Skellefteå's new meeting place for concerts, performances, meetings, exhibitions, events and congresses. The entire building will be buzzing with creativity and the new hotel offers a spa, restaurant with panoramic views and first-class accommodation.
The building has a high focus on sustainability, with the spa on the 20th floor offering views of the forests from which the raw material came from, and with its heating and cooling system being regulated by the power from the Skellefteå River.
The Swedish writer Sara Lidman has been given the name of Skellefteå's new Cultural Centre.
HOIST DETAILS  
Location: Sara Cultural Centre, Skellefteå
Application: New construction
No. of hoist cars: 2
Hoist models: Alimak Scando 650
Capacity: 2,000 kg
Hoist car size: 1.3 m x 2.2 m x 2.1 m (W x L x H)
Speed: 0.6 m/s
Lifting height: ~20 and 80 m
GALLERY
The SSE Great Island Power Station in Wexford replaced the old oil-fired station in 2015 with a new modern gas-fired station, which is among the cleanest and most efficient in Ireland, generating enough electricity to power half a million Irish homes.
In addition to providing their markets with the power they need, SSE Thermal is also committed to working towards a net-zero future with flexible and efficient thermal energy playing a crucial role in the security of power supply alongside renewable generation technologies.
A vital part of the infrastructure at the Great Island Power Station is the Heat Recovery Steam Generator (HRSG). The generator improves overall efficiency by recovering exhaust heat from the power generation plant which would otherwise be wasted. A HRSG can be used to create steam which drives turbines and produces even more electricity. In some cases, this can bring overall efficiency up to 85%–90% while reducing environmental impacts.
Considering the extreme temperatures and pressures involved in the process and the large, complex HRSG machinery, reliable vertical access for regular inspections and maintenance work is vital. As the industry leader in vertical access solutions and an existing partner of SSE Thermal, an Alimak industrial elevator built on tried and trusted rack and pinion technology was the obvious choice for this project. In this case an Alimak SE industrial elevator engineered to withstand the most challenging environments was chosen.
The Alimak SE's rack and pinion design does not require a lift shaft or a separate machine room. Neither are extensive support structures needed for the guide rail. This advanced design made the interface with the existing system at Great Island much more straightforward than the traction elevator alternative. Access space around the HSRG was extremely tight. Still, the Alimak SE 500 design allowed for an installation process whereby the elevator could be laid on its back and transported under the building steelwork. From there, it was lifted and turned using overhead beams and securely installed onto the mast. Landing door interface steelwork and mast tie in interfaces had already been prepared using intermediate scaffolds.
The flexible and innovative design delivered a smooth installation process for an existing building with tight space requirements, all without sacrificing any required functionality in operation.
ELEVATOR DETAILS
Location: Ireland, County Wexford
Application type: Power Station HRSG
Elevator type: Rack and pinion
Elevator model: Alimak SE 500 FC
Capacity: 500kg/6 passengers
Elevator car size: 1.04 m x 1.3 m x 2.08 m (W x L x H)
Speed: 0.6 m/s
Lifting height: 28.16 m
No. of landings: 3
Installation year: 2020
GALLERY
The new Hisingen Bridge in Gothenburg, Sweden is a key public infrastructure development for the city. It replaces the old Göta älv Bridge and provides for a shorter crossing distance between Hisingen and the city centre traversing over the river Göta älv.
The noteworthy design of the new Hisingen Bridge involves four distinct pylon structures and vertical lift capability.
In this instance, a practical and compact vertical access solution is required with an elevator located within each of the four pylons. This is essential for service and maintenance tasks inside the pylon structure where counterweights and machinery for the vertical lift bridge are located. Each pylon leg will be effectively and practically served by an Alimak elevator built on rack and pinion technology giving access to five landings up to a lifting height of 36 meters, travelling at 0.6 m/second and providing a payload capacity of 300kg. The tried and tested rack and pinion drive first introduced by Alimak many years ago was the only viable solution for this project, with the drive mechanism being located within the elevator car itself and eliminating the need for space requirements for a separate shaft or machine room.
Bridge pylons present particular access challenges due to the necessarily limited space available. Convenient and reliable access, however, remains essential for maintenance personnel to address critical tasks relating to aspects including cable stays and aircraft warning lights at the top of each structure.
With over 40 years of experience in vertical access systems for bridge projects, Alimak is uniquely experienced to meet and overcome the specific challenges which arise with a specific bridge, its geography and engineering. In addition to the compact and reliable elevator with it's rack and pinion drive design for narrow spaces, Alimak's elevators can also be adapted to traverse inclined or curved surfaces as the form of the bridge pylon structure demands.
ELEVATOR DETAILS
Location: Gothenburg, Sweden
Application: Bridge pylon
Elevator type: Rack and pinion
Elevator model: Alimak SE 300 DOL with Special U-600 mast
Capacity: 300 kg
Elevator car size: 0.78 m x 1.04 m x 2.17 m (W x L x H)
Speed: 0.6 m/s
No. of elevators: 4
Two Alimak passenger and materials hoists were used by Colombo Costruzioni S.p.A. during the construction of the Bosco Verticale skyscrapers in Milan, Italy. An innovative building project of two towers hosting more than 900 trees that won the prestigious International High-rise Award.
The Alimak Scando 450 construction hoists were an integral part of the construction of the two skyscrapers. The first Alimak hoist had an 80 m lifting height and 17 landings and the second 112 m and 25 landings. Both hoists had the Alimak ALC-II control system and A3 remote monitoring systems.
Colombo Costruzioni S.p.A. was able to meet the challenge of moving workers efficiently, constantly and safely during the all construction phase thanks to the excellent collaboration of our partner in Lombardia, A.C.G. 5 S.r.l., chosen as the full services suppliers for the hoists from project management and installation right through to maintenance, training, dismantling and providing a 24 hour call out service.
Project challenges
One challenge concerned the different positions and dimensions of the terraces on the outside of the towers. There was a need to create an ideal landing solution on all floors for easy and fast use. Thanks to the flexible, modular design of the Alimak Scando 450 hoists and together with a scaffolding supplier, the optimal solution was achieved.
The second challenge focused on increasing the performance of the hoists; reducing waiting times at the landings and optimizing the loads/unloads according to the hoist ascent or descent. The intelligent Alimak ALC-II control landing system increased the efficiency of the use and reduced waiting times substantially.
The final challenge was to keep the hoist downtime to a minimum and increase the uptime. The Alimak A3 remote monitoring system, which sends activity reports back to the jobsite engineers, ensured that this was achieved.
Colombo Costruzioni S.p.A., with 180 direct employees, an annual turnover of more than 200 million euro and over a century of history has become a national and international benchmark in the construction sector, but has always kept its roots in Lecco, Italy, which is where the company originates from. The extraordinary wealth of experience accumulated since 1905 represents the solid base of a company that has always cared for safeguarding important reference values and family traditions.
Alimak construction hoists have been used for over 50 years in a wide range of applications, from industrial and mining projects, chimneys and bridges, through to new building construction and refurbishment on some of the world's tallest structures.
COIMA SGR, authorized by the Bank of Italy in 2007, is a leading independent company in the management of real estate investment funds on behalf of Italian and inter­national institutional investors. Today COIMA SGR manages 19 real estate investment funds, with investments worth over 5.5 billion Euro. COIMA, was founded in 1974 by the Catella family together with Domo Media, and is specialized in development and management of real estate assets on behalf of institutional investors. COIMA collaborates with leading Italian and international investors, such as sovereign wealth funds, pension funds, banks, insurance companies, developers, real estate funds and private equity groups. In more than 40 years of activity, COIMA has developed and managed properties totaling over 5 million square meters including Porta Nuova, one of the most prestigious urban regeneration project in Europe.
Project details
Project: Bosco Verticale
Location: Porta Nuova, Milan, Italy
Asset management: Coima SGR
Property management: COIMA SRL
Interior design: Coima Image in collaboration with Dolce Vita Homes
Construction hoist details
Application: Skyscrapers, residential
Hoist types: 2 x ALIMAK SCANDO 450 14/32
Capacity: 1,400 kg
Hoist car sizes: 1.4 m x 3.2 m x 2.13 m (W x L x H)
Speed: 54 m/min
No. of landings: 17 and 25
Lifting height: 80 m and 112 m
Located in Monaco, in the Saint-Roman residential district, construction began on the Tour Giroflées in 2016 and is expected to continue into 2021. Due to stand at 24 storeys and house 73 apartments, the tower is also set to feature a commercial space, 200 car parking spaces and spa facilities.
Renowned as a provider of industry-leading vertical access solutions, Alimak was selected to deliver an access system owing to the experience and expertise of the team. Alimak installed an Alimak Scando 650 construction hoist solution with dual car configuration featuring one XL car (2 x 4.6 metres) and a standard car (1.5 x 4.5 metres) for a truly versatile vertical access solution. Capable of transporting passengers and materials to elevated levels on-site up to 84 metres and to 25 landings, the construction hoists drove efficiency throughout the construction of Tour Giroflées. Designed to drive productivity on construction sites, the dual car Alimak Scando 650 construction hoist system featured payload capacities of up 2,500 kilograms and 3,000 kilograms and travelling speeds of up to 65 metres per minute for continuously efficient operations.
The assembly of the hoist was carried out alongside the progress of the facade of the building with the construction hoists serving the 'coolant' floor through climbing formwork, providing masons with practical and reliable access to the final floor.
Alimak also installed single and twin masted MSHF mast climbing work platforms with extensions to fit the curved facades of the building to facilitate the installation of the safety rails on the balconies of the building.
ELEVATOR DETAILS
Location: Tour Giroflées, Monaco
Application: High-rise construction
Hoist types: Alimak Scando 650 XL FC & Alimak Scando 650 FC
Capacity: 2,500 kg & 3,000 kg
Hoist car sizes: 2 m x 4.6 m & 1.5 m x 4.6 m (W x L x H)
Speed: 38-65 m/min.
Lifting height: 84 m
No. of landings: 2 x 24
Owing to a reputation for delivering industry-leading vertical access solutions based on a wealth of expertise and experience, Alimak has had the distinct privilege of providing vertical access solutions for some of the world's most recognisable landmarks.
Since 1983, Alimak has engineered practical vertical access solutions for the Eiffel Tower to drive efficiency on a number of renovation and maintenance projects. In 1990, Alimak facilitated key renovation work on the tower through the provision of a reliable vertical access solution. Two Alimak Scando cages, one for passengers and the other for materials, with capacities of 1,800 kgs and 2,000 kgs respectively, provided access as the infrastructure of the tower underwent maintenance to prolong the life of the monument. After one year of operations on the first floor of the tower, the elevators were dismantled and re-installed on the second floor for more extensive work on the tower's own elevator system.
Most recently, Alimak was called upon to supply a vertical access solution for renovation work on a restaurant on the first floor of the landmark, located 60 metres above the ground. Due to the fact that the renovation was taking place in an occupied environment, an access solution was required that did not use the elevators that are integrated into the structure of the Eiffel Tower. Alimak was chosen to take on the challenge having supplied the most seamless and practical vertical access solution.
One obstacle encountered during the renovation project was that the vertical access solution was required to transport passengers and materials to elevated points on the tower whilst working within the parameters of its unique form and without intermediate anchoring. Alimak delivered a solution that utilised an Alimak Scando 650 construction hoist which climbed a 60 metre triple mast at speeds of up to 54 metres per minute. This impressive height was achieved with a combination of 3 Alimak mast towers with only one tie required at the top. Featuring a 4 x 1.5 metre cabin with a 2,500 kg payload capacity, the Alimak construction hoist offered a practical solution for the transportation of bulky materials to the elevated restaurant site.
HOIST DETAILS
Location: Eiffel Tower, Paris, France
Application: Renovation
Hoist type: Alimak Scando 650, triple mast
Capacity: 2,500 kg
Hoist car size: 1.50 m x 4.0 x 2.0 m
Speed: 54 m/min.
Lifting height: 60 m
21 kilometres of new lines will have been added to the Copenhagen Metro in a few years time. Nine Alimak elevators will provide access in case of emergency.
Fully automatic, driverless trains will link the eastern and western areas of Copenhagen, including the new development centre Ørestad, a "town in the town" close to the airport and the Øresund bridge. The first 11 kilometres will open for traffic in the autumn of 2002 and another six kilometres will be ready in 2003. The third and final phase includes an extension of the line out to Copenhagen International Airport and is scheduled for 2005. Nine out of the totally 24 new stations will be located underground at depths of up to 18 metres. Safety issues being a top priority in the design of the transport system, The Copenhagen Metro Construction Group (COMET) specified a maximum distance of 300 m to the nearest emergency exit along the line. In the underground tunnels, this requirement means excavating vertical escape and ventilation shafts between the nine stations. The circular shafts are typically 20–30 m deep, diametre around 8 metres, with crosscuts leading into the tunnels. In each of the nine escape shafts there are ventilation pipes, a staircase, and an emergency elevator. Alimak were asked to provide a solution for the elevators and suggested their 1,200 kg capacity rack and pinion elevator type Alimak SE-12 with some special features added to it to suit the application.
The SE-12 elevators are thus equipped to allow two stretchers to be transported in the elevator car, enabling casualties to be moved safely to ground level in case of an accident in the tunnels. All elevator cables are flame retardent to eliminate the risk of gases created by burning cables in case of a fire. There is also an additional window in the rear car wall so that the rescuers can take their bearings when driving up and down in the shaft. Members of the COMET joint venture are Carillion and Bachy Soletanche (both U.K.), SAE International (France), Astaldi (Italy), Strabag (Austria), and NCC (Denmark).
ELEVATOR DETAILS
Location: Copenhagen Metro, Denmark
Installation year: 2001
Application: Emergency escape
Tunnel Elevator type: Alimak SE 12
No. of elevators: 9  
Capacity: 1,200 kg
Elevator car size: 1.17 x 2.35 (W x L)
Speed: 0.8 m/s
Lifting height: 20 m
No. of landings 2–3
GALLERY
Systembolaget, a government-owned chain of liquor stores in Sweden, recently selected an Alimak rack & Pinion elevator for the new logistics facility in Brunna, north of Stockholm. Systembolaget leases large parts of the warehouse from Logicenters.
Systembolaget stores their products at the new depot prior to delivering to the company's stores and their many customers who shop online at www.systembolaget. se. As such, Systembolaget opted for an Alimak rack and pinion elevator for their new logistics facility. The Alimak elevator solution required minimum preparation in the facility as rack and pinion elevators don't require a costly elevator shaft to be designed into the facility structure in advance. With only one tie-in to a concrete beam of the warehouse structure, the elevator can be installed easily and efficiently. The Alimak elevator provides ease of access for both persons and goods weighing up to 1,000 kg, between ground level and the two mezzanine floors.
Flexible access solutions for warehouses
The Alimak SE modular elevator concept adapts to the most varying transport requirements and locations. It can be installed with and without an elevator shaft, thanks to its self-supporting design, allowing the elevator to be placed where it provides the greatest benefit. When installing the elevator inside an existing building, the low headroom between the top landing and the roof is a great advantage. Accurate floor levelling at the landing is a prerequisite for the smooth handling of materials and passenger transport. An Alimak rack and pinion elevator levels to within ±5 mm every time, irrespective of the load or lifting height.
GALLERY