Construction hoists
Since the introduction of the world's first rack and pinion construction elevator more than 70 years ago, Alimak has continued to pioneer advances in vertical access solutions for construction sites around the world, across a range of applications including high-rise and low-rise construction, renovation and maintenance projects.
Alimak construction hoists are built on tried and tested technology to drive sustainability, efficiency and enhance productivity across the construction industry. Utilising a range of intelligent features and robust modular designs, Alimak's construction hoists enhance safety and provide an efficient and reliable means of vertical transport across construction sites.
Request a Quote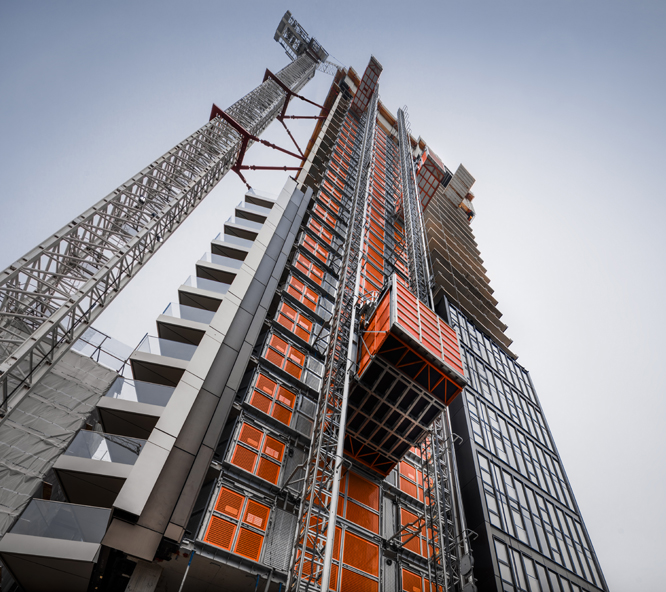 ALIMAK CONSTRUCTION HOIST PRODUCT RANGES
Alimak's construction hoists offer a diverse range of capacities including various car sizes, payload capacities, lifting heights and speeds for the efficient vertical transportation of passengers, goods and materials.
Why choose an Alimak Construction Hoist
Reliable vertical access
High productivity
Superior ride comfort
Modular design
Get in touch for more information or a quote
Need help selecting the right product for an upcoming project? Get in touch with our product experts for information on the range of vertical access solutions available and a quotation to meet the needs of your project.
Request a Quote
Find a local representative
Present across six continents, Alimak utilises a global network to deliver vertical access solutions for a wide range of applications on construction and industrial sites around the world. Get in touch to find a local representative from Alimak's global network.
Search Directory